Location de voiture Dubaï: Explorez les Emirats Arabes Unis
Si vous voulez explorer toutes les places impressionnantes de la ville par vous-même, nous vous conseillons de louer une voiture de location. Avec driveboo, vous avez la possibilité de comparer toutes les offres de location de voitures et de réserver votre voiture de location directement en ligne. La métropole de Dubaï sur le golfe Persique, la plus grande ville des Émirats Arabes Unis, est l'une des villes les plus visitées au monde depuis de nombreuses années. Entrez dans un conte de fées de 1001 nuits, visitez le fort Al-Fahidi au centre, flânez autour du marché aux épices avec son atmosphère orientale et rechargez vos batteries après une journée impressionnante au Jumeirah Beach Park, le plus beau parc de la ville de Dubaï ou Miracle Garden.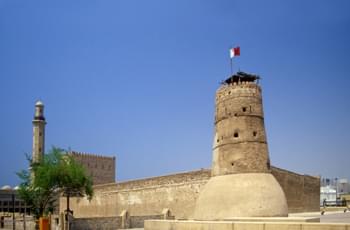 Le "Fort Al Fahidi", Dubaï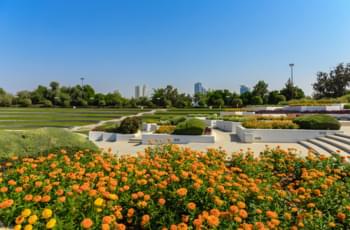 Le "Jumeirah Beach Park", Dubaï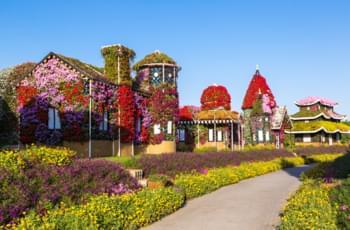 Le "Miracle Garden", Dubaï
Quels sont les aéroports dans la région de Dubaï ?
| Aeroport | Code IATA | Distance |
| --- | --- | --- |
| Dubai International | DXB | 14,2 Kilometer |
| Dubai World Central | DWC | 51,7 Kilometer |
| Sharjah International Airport | SHJ | 13 Kilometer |
Si vous entrez dans les Emirats Arabes Unis par l'un des trois aéroports de Dubaï, vous pouvez louer une voiture directement de là et commencer votre aventure. Ce que vous devez surveiller lorsque vous conduisez une voiture de location aux Émirats Arabes Unis et pourquoi vous devriez louer une voiture de location à l'aéroport, nous avons compilé pour vous ci-dessous.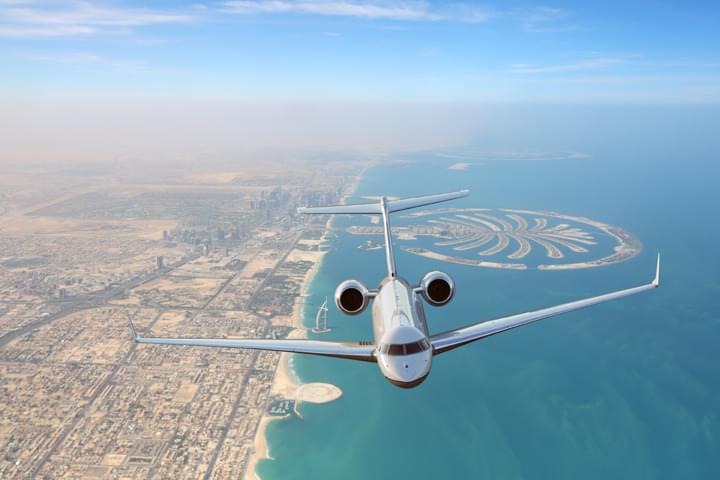 Une avion au-dessus de Dubaï
Pourquoi louer une voiture à l'aéroport est une bonne idée:
Si vous voyagez de l'Europe à Dubaï, vous arriverez généralement à votre destination bien reposé grâce au temps de vol gérable, il vaut donc la peine d'envisager de louer une voiture directement à l'aéroport. Vous bénéficiez non seulement d'offres avantageuses, de bonnes possibilités de stationnement et d'une flotte de véhicules étendue, mais aussi d'heures d'ouverture plus longues, ce qui peut être particulièrement avantageux pour vous lors d'un vol de retour tardif.
Quelle assurance dois-je souscrire pour ma voiture à Dubaï ?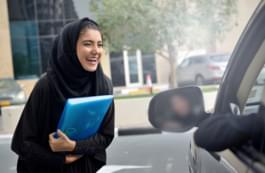 La bonne assurance pour votre voiture de location à Dubaï
En général, comme dans tous les autres pays, vous devriez souscrire une assurance tous risques sans franchise à Dubaï. De plus, nous recommandons la couverture de responsabilité civile la plus élevée possible afin de bénéficier de la meilleure protection en cas d'accident.
Si vous souhaitez également voyager avec votre voiture à l'extérieur de Dubaï, il est conseillé de souscrire une assurance complémentaire verre ou pneus.
Ai-je besoin d'un permis de conduire international pour Dubaï ?
Bien que certaines entreprises de location de voitures acceptent un permis de conduire national, la plupart des entreprises de location de voitures exigent toujours la présentation d'un permis de conduire international. Pour cette raison, vous devez demander un permis de conduire international dans votre municipalité d'origine assez tôt, ce qui peut prendre plusieurs semaines à délivrer.
Puis-je louer une voiture à Dubaï en tant que femme ?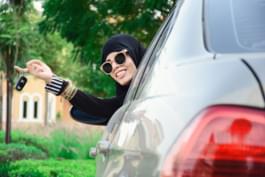 Location de voiture à Dubaï
Bien sûr, vous pouvez vous asseoir derrière le volant d'une voiture de location et louer une voiture à Dubaï en tant que femme et aussi non accompagné.
Y a-t-il des limites d'âge pour la voiture de location à Dubaï?
L'âge minimum pour conduire une voiture de location à Dubaï est de 21 ans pour une voiture normale et de 25 ans pour une voiture à traction intégrale.
Y a-t-il un péage aux Émirats Arabes Unis ?
Oui, parce qu'un réseau routier bien développé coûte aussi de l'argent aux Émirats Arabes Unis, qui doit être refinancé. C'est pour cette raison que le "Salik" a été introduit en 2007, un autocollant avec puce intégrée qui est lu électroniquement lors de la conduite sur une route à péage. Afin de ne pas tomber dans le piège des coûts lors de la location de votre voiture plus tard, vous devez préciser immédiatement lors de la location ou de la prise en charge de la voiture de location si les coûts sont inclus ou non dans le prix de location.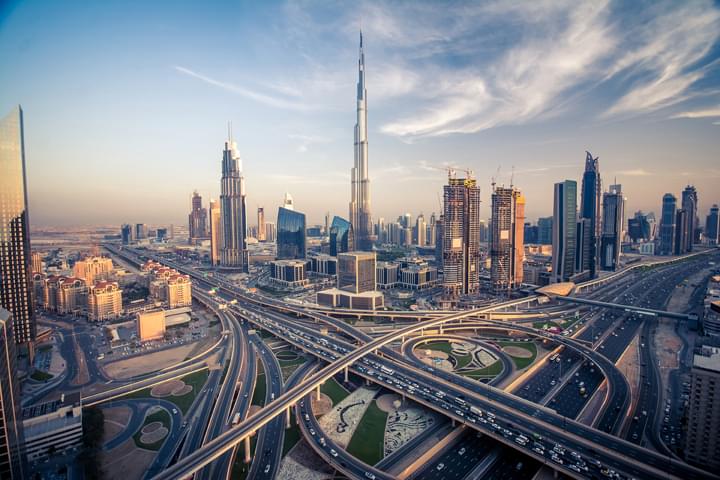 Autoroute à Dubai
Puis-je trouver un parking gratuit pour ma voiture de location à Dubaï?
En fait, vous trouverez également un parking gratuit à Dubaï. La plupart des places de stationnement sont situées entre l'hôpital Al Baraha et le district d'Al Wasl. De plus, vous n'avez pas à vous inquiéter de ne pas avoir un endroit sûr pour votre voiture, car la plupart des hôtels et centres commerciaux ont suffisamment d'espaces de stationnement où vous pouvez garer votre voiture gratuitement ou moyennant des frais.
Quelle est la limite de vitesse à Dubaï ?
| Type de rue | Vitesse maximale |
| --- | --- |
| Dans la ville | 50 – 80 km/h |
| A l'exterieur de la ville | 100 – 120 km/h |
En théorie, on pourrait penser qu'avec toutes les voitures de sport qui circulent, il y a une piste sur laquelle les habitants de Dubaï peuvent vraiment marcher sur l'accélérateur. Mais ce n'est pas le cas, bien au contraire, car les excès de vitesse ne sont pas non plus les bienvenus à Dubaï.
Vous devriez conserver ces numéros de téléphone en cas d'urgence
| Cas d'urgence | Numéro |
| --- | --- |
| Police et ambulance | 999 |
| Pompier | 997 |
| Ambulance (à Abu Dhabi et à Fujairah) | 998 |
Quand un voyage à Dubaï vaut-il la peine ?
Le faible taux d'humidité aux Emirats Arabes Unis fait de Dubaï une destination attrayante toute l'année. Si vous n'aimez pas cette chaleur, vous devriez planifier votre voyage entre décembre et fin mars, car les températures en juillet et août montent très rapidement au-dessus de 40° Celsius.
Voyager à Dubaï en voiture de location
A Dubaï, il est en effet facile de conduire en voiture de location à partir d'une attraction touristique. Qu'il s'agisse d'une excursion à l'emblème de la ville, le Burj Khalifa, le gratte-ciel le plus haut du monde, d'une visite de l'archipel "Le monde", qui a été créé sous la forme d'une carte du monde, ou d'une excursion au marché aux épices, vous ne vous ennuierez certainement pas ici.
Ce que vous ne devriez pas manquer:
les jeux d'eau / Dubai Fountain
le Burj Khalifa
la marina de Dubaï
le musée de Dubaï à Al-Fahidi-Fort
le Jardin des Miracles
le parc aquatique Aquaventure
un tour de boutre sur le ruisseau Deira Creek
Découvrir Dubaï en voiture de location
| Destination de excursion de Dubaï | Distance avec la voiture de location | Durée |
| --- | --- | --- |
| Musée Ajman | 37,4 km | 41 min |
| Al Jumooh Equestrian Centre | 37,6 km | 35 min |
| Musée Sharjah Classic Car | 42,1 km | 34 min |
| Sharjah Natural History Museum and Desert Park | 55,7 km | 43 min |
| Posh Paws Animal Sanctuary and Petting Zoo | 57,8 km | 42 min |
Que seraient des vacances à Dubaï sans un voyage dans le désert ? Cependant, vous devriez avoir un peu d'habileté de conduite lorsque vous osez conduire votre voiture de location aux portes de la ville, par exemple, pour partir pour "Desert Park", parce que le sable du désert sur la route chaude et incandescente exige des compétences de conduite et la capacité de réagir rapidement de temps en temps. Après une balade passionnante, faites une escale et montez sur le dos d'un chameau ou d'un cheval et essayez le sandboard avant de retourner à la métropole de millions d'habitants.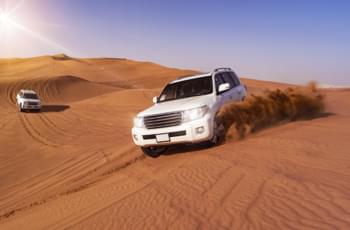 Voiture dans le désert, Dubaï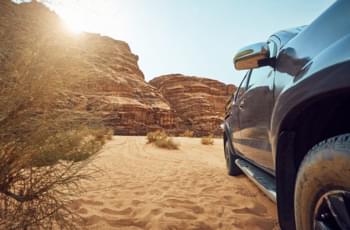 Voiture dans le désert, Dubaï