Explorer la Nouvelle-Zélande en voiture de location
Voyager en Nouvelle-Zélande est une aventure et pour voir autant de ce beau pays que possible, nous vous conseillons fortement de louer une voiture. Ainsi, vous pouvez visiter le grand paysage de manière totalement indépendante et flexible et profiter au maximum de vos vacances.
La Nouvelle-Zélande est située dans le sud-est de l'Australie et est un État insulaire. En plus des grandes chaînes de montagnes, des volcans, des forêts et des plages, vous pouvez vous rendre sur les lieux du film "Lord of the Rings" en voiture de location.
Les grandes villes comme Wellington, Auckland et Christchurch valent aussi le détour en voiture de location. Louez une voiture à Auckland et explorez les environs. Les parcs naturels et les villes ont beaucoup à offrir en Nouvelle-Zélande.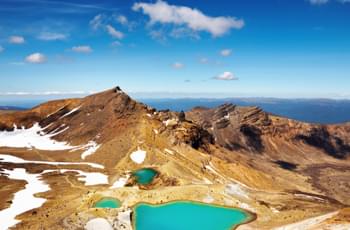 Parc national Tongariro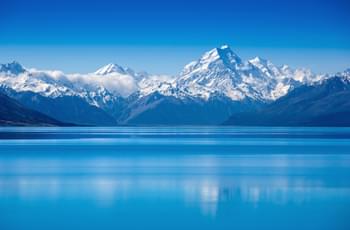 Lac de Tekapo
Dans le tableau suivant, vous trouverez les parcs nationaux les plus populaires de Nouvelle-Zélande.
| Parc national | Superficie | Région |
| --- | --- | --- |
| Parc national Tongariro | 80.000 héctares | Manawatu-Wanganui |
| Parc Kahurangi | 4520 km² | Tasman |
| Fiordland | 12.500 km² | Southland |
Louer une voiture et conduire dans la nature de la Nouvelle-Zélande
En Nouvelle-Zélande, nous travaillons avec toutes les grandes compagnies de location de voitures. Il suffit de louer une voiture pour vos vacances en ligne dans notre comparaison de prix. Toute destination en Nouvelle-Zélande peut être atteinte en voiture de location. Les routes principales sont les autoroutes de l'État couvrant l'île du Sud et l'île du Nord. Pour l'outback néo-zélandais, il est recommandé de louer une jeep. Avec une voiture de location, vous pouvez visiter des endroits qui ne sont pas visités par les bus d'excursion et ainsi organiser votre voyage individuellement.
Les grandes villes sont reliées par des autoroutes. Il y a une limite de vitesse de 100km/h qui doit être respectée lors de la conduite d'une voiture de location. En Nouvelle-Zélande, il y a une circulation à gauche, mais on peut s'y habituer très rapidement.
Vous pouvez