Explorez San Francisco en voiture de location
Louez une voiture à San Francisco et explorez la ville de manière flexible et indépendant. Avec une voiture de location à San Francisco, vous pouvez découvrir la ville et ses environs. Dans notre comparaison des prix de location de voitures, vous trouverez un grand choix d'offres. Nous travaillons avec toutes les grandes compagnies de location de voitures à San Francisco.
San Francisco se trouve à la pointe d'une péninsule entre l'océan Pacifique et la baie de San Francisco. La "City by the Bay", comme on l'appelle sur la côte ouest de la Californie, est l'une des villes les plus diversifiées et les plus variées des Etats-Unis. La vaste ville chinoise de San Francisco vous emmène dans un monde complètement différent. Une visite de la ville par la baie est pratique pour un aller-retour à travers toute la région de la baie et les environs. Le parc national de Redwood et les régions viticoles de la vallée de Sonoma et de la vallée de Napa sont quelques-uns des endroits qui valent la peine d'être vus et que vous pouvez atteindre rapidement avec une voiture de location.
Location de voiture San Francisco: Arrivez-vous par avion?
Si vous voulez être aussi flexible que possible lors de la prise en charge de votre véhicule de location, nous vous recommandons les aéroports suivants dans la région de San Francisco :
| Nom de l'aéroport | Code IATA | Distance au centre-ville |
| --- | --- | --- |
| San Francisco International Airport | SFO | 22 km |
| Oakland International Airport | OAK | 35 km |
| San Jose International Airport | SJC | 55 km |
Découvrir San Francisco: Golden Gate Bridge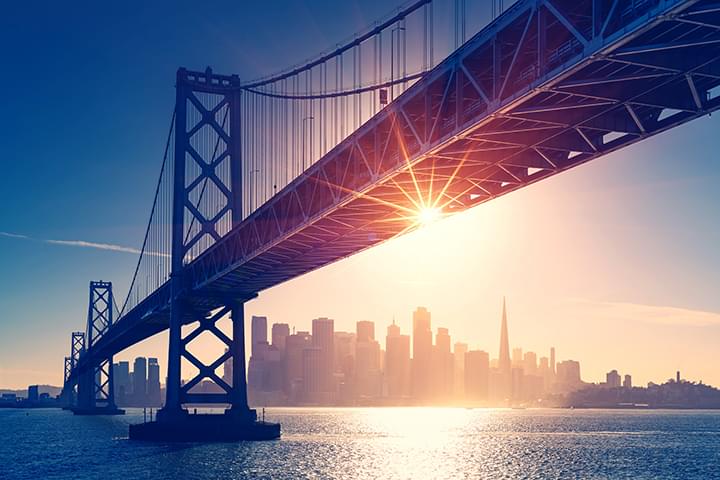 Un séjour à San Francisco comprend une vue imprenable sur la baie avec le Golden Gate Bridge. La Baker Beach, l'une des plages les plus populaires de la ville, est bien située pour ce projet. Aussi, un bon conseil sont les promenades le long de Lover's Lane dans le Presidio ou le sentier Eagle's Point à Lands End à l'extrémité nord de la péninsule. Une autre possibilité est la plate-forme d'observation du Musée de Young, accessible gratuitement.
Exploration en voiture de location: Alcatraz
Une visite de la célèbre île pénitentiaire est l'un des circuits touristiques les plus populaires de San Francisco. Il est donc recommandé de réserver le billet pour la traversée de l'île à l'avance. Aujourd'hui Alcatraz est un sanctuaire d'oiseaux. Il y a un musée sur le terrain de l'ancienne prison de haute sécurité. Des visites guidées sont également disponibles sous forme de visites nocturnes.
Lieux d'intérêt San Francisco: Des Offres pour les jeunes et les vieux
San Francisco est une ville d'art, de sciences et de musées. Ici, chaque visiteur trouve des curiosités selon ses goûts. Les principaux musées comprennent:
Le San Francisco Museum of Modern Art
Le Asian Art Museum
L'Académie des sciences de Californie
Le Wells Fargo History Museum
Le Walt Disney Familiy Museum
L'Aquarium de la Baie (on trouve plus de 20 0000 animaux maritimes ici)
En voiture à San Francisco: Visite du port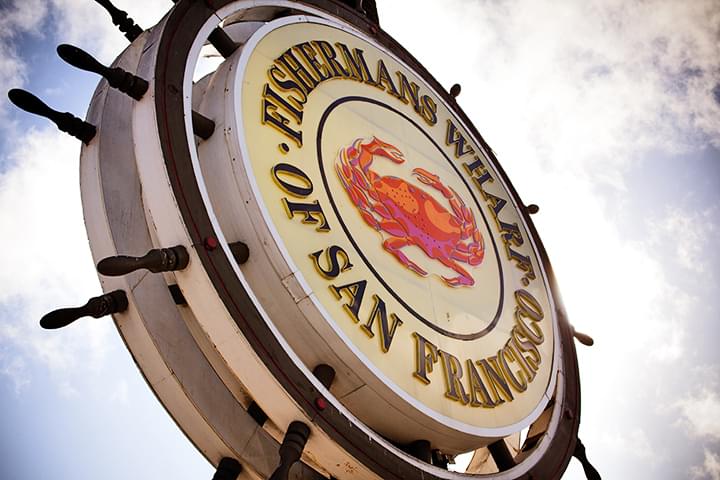 La visite de San Francisco comprend aussi une excursion au Marina District, le quartier portuaire de la ville. Ici, vous trouverez Fisherman's Wharf avec des nombreuses attractions touristiques. Au Pier 39, vous pouvez vous émerveiller devant les offres colorées des boutiques de souvenirs et de la colonie locale d'otaries. La voiture de location peut être commodément garée dans l'un des parkings à plusieurs étages du quartier.
Comment réserver une voiture de location en Californie: Le dépôt
Lors de la location d'un véhicule de location, une caution est due. Le montant varie et dépend, par exemple, du fournisseur, de l'équipement de la voiture de location ou du pays de voyage. Le dépôt de garantie donne à l'entreprise une garantie en cas de dommages ou de non-respect des accords contractuels. En règle générale, le dépôt est payé par carte de crédit. Il est important que le titulaire de la carte soit le conducteur principal. Dans certains cas, un dépôt en espèces est possible lors de la prise en charge à l'aéroport.
Comparez les offres et assurez les voitures de location à bas prix
Lorsque vous louez un véhicule de location, vous devez vous assurer d'avoir une assurance adéquate. Les dommages causés à la voiture de location devraient être entièrement couverts et une protection de responsabilité civile suffisante devrait être disponible auprès de la compagnie d'assurance choisie. Il peut être décisif si vous réservez en ligne à l'avance ou à l'aéroport. Les offres américaines incluent généralement moins de couverture d'assurance dans le prix de base.
Pour certains États, il existe une réglementation spéciale en matière d'assurance.
En Californie, par exemple, la couverture de responsabilité est souvent limitée à une contribution minimale. Veuillez noter que, dans certaines circonstances, la couverture d'assurance expire. Veuillez lire attentivement le contrat de location de voiture. Les violations possibles des conditions contractuelles sont la conduite en état d'ivresse, la conduite sur des routes non pavées ou les voyages à l'étranger.

Location de voitures en Californie: Tous risques sans franchise

Aux États-Unis, l'abréviation CDW est utilisée pour une protection complète. Les dommages individuels couverts par l'assurance sont énumérés dans le contrat. Il existent des offres d'assurance tous risques sans franchise ou avec franchise. Une assurance tous risques sans franchise est avantageuse si vous n'avez pas à supporter de frais en cas de dommages. Dans le cas d'une assurance tous risques sans franchise, il vaut la peine de comparer les offres, surtout si vous louez la voiture à l'aéroport.
Le conducteur supplémentaire pour la voiture de location
Pour des tours plus longs avec une voiture de location, il est pratique si plusieurs personnes peuvent conduire. N'oubliez pas d'enregistrer tous les conducteurs supplémentaires lors de la prise en charge de votre voiture de location à l'aéroport. Si vous laissez conduire une personne qui n'est pas enregistrée comme conducteur, cela peut devenir coûteux en cas d'accident. Les conducteurs supplémentaires doivent présenter leur carte d'identité ou leur passeport et un permis de conduire valide lors de l'enregistrement. Il existe des offres de location de voitures où des conducteurs supplémentaires peuvent être enregistrés gratuitement, d'autres sont soumis à des frais.
Location de voiture San Francisco: Location d'un aller simple
Si vous prévoyez un voyage plus long avec une voiture de location depuis l'aéroport et que vous ne la rendez pas à son emplacement d'origine, on parle d'une location aller simple. La location à usage unique est gérée différemment par les différents prestataires. En règle générale, vous devez vous attendre à des frais supplémentaires pour les locations aller simple. Certains propriétaires terriens américains offrent gratuitement certains itinéraires à l'intérieur des États-Unis.
Voyager à San Francisco en voiture de location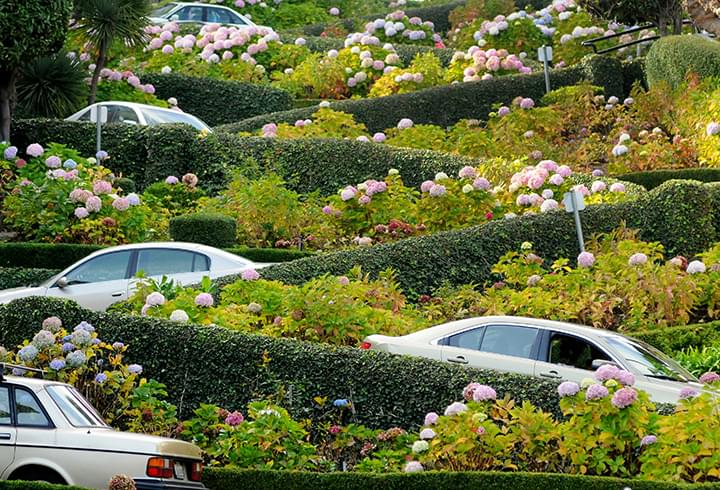 Lombard Street San Francisco
Ceux qui quittent l'aéroport en voiture de location et entrent dans la ville seront accueillis par une agitation colorée de voitures, camions, taxis et téléphériques. Certaines parties de la ville sont très vallonnées et sinueuses. Lombard Street est célèbre, mais est considérée comme la rue la plus sinueuse du monde. Les rues Filbert et 22nd Street ont une pente d'environ 31,5 %.
Quelles sont les règles de circulation à San Francisco et en Californie ?
Le port général de la ceinture de sécurité s'applique
Le taux d'alcoolémie est de 0,8 pour mille
En rouge, un virage à droite est autorisé, à moins qu'il ne soit explicitement interdit par un panneau supplémentaire.
Carrefour avec le panneau "4 voies" ou "All Way": Ici, chaque conducteur doit d'abord s'arrêter, puis celui qui a atteint le premier le carrefour peut conduire.
Les autobus scolaires munis de feux clignotants ne doivent pas être révisés.
Quelle est la limitation de vitesse à San Francisco ?
| Type de route | Limitation de vitesse en miles | Limitation de vitesse en kilomètres |
| --- | --- | --- |
| Dans zones urbaines | 25 - 30 mph | 40 - 50 km/h |
| A l'exterieur de la ville | 55 - 65 mph | 90 - 110 km/h |
Il y a des règles spéciales pour le stationnement à San Francisco:
Si le trottoir est marqué d'une couleur, vous pouvez voir si vous pouvez vous arrêter ou stationner à ce point. Veuillez prêter attention à ces marquages, afin que vous puissiez vous épargner des ennuis inutiles.
| Couleur | Signification |
| --- | --- |
| Jaune | Zone de chargement |
| Noir | Zone de chargement |
| Blanc | Zone d'arrêt de 5 minutes pendant les heures d'ouverture |
| Vert | Zone de chargement/ d'arrêt de 10 Minutes |
| Rouge | arrêt-stationnement interdit |
En raison de la pente à San Francisco, la voiture doit toujours être garée avec les roues tournées vers le trottoir.
Péage des ponts dans la région de la Baie
Il y a huit ponts dans la région de la baie, qui doivent être payés en voiture. Habituellement, un seul péage est perçu aux ponts. Le montant des frais peut varier selon le jour de la semaine et l'heure de la journée. Il est conseillé de vérifier auprès de la société de location de voitures comment le péage sera facturé. Il y a en partie la perception automatisée du péage, en partie le paiement en espèces. Le paiement en espèces n'est plus possible au Golden Gate Bridge