Explorez New York et les États-Unis en voiture de location
Vous pensez de passer vos prochaines vacances à New York? Bonne idée! Avant que vous commencez votre tour, vous devez savoir que New York c'est la ville qui ne dort jamais. New York est rapide. New York vous coupe le souffle. New York est tout simplement incroyable. Situé à l'est des Etats-Unis dans l'état du même nom, des curiosités mondialement connues telles que la Statue de la Liberté attendent d'être explorées par vous. En voiture de location, vous êtes flexible pendant vos vacances et vous pouvez visiter tous les sites touristiques sans problèmes. Chez driveboo, vous avez la possibilité de comparer les prix des voitures de location à New York et de choisir l'offre qui vous convient le mieux.
Quel est le meilleur endroit pour louer une voiture à New York?
Dans la ville de New York, d'innombrables sociétés de location de voitures vous attendent avec leurs offres. Vous pouvez également louer une voiture aux trois aéroports de New York JFK (JFK), New York La Guardia (LGA) et Newark New Jersey (EEA). Vous pouvez louer une voiture directement sur place. Pour la compétition à l'aéroport, vous pouvez obtenir des offres favorables. Un autre avantage est l'allongement des heures d'ouverture d'un aéroport et la meilleure disponibilité de véhicules spéciaux tels que les cabriolets, les voitures de sport ou les SUV.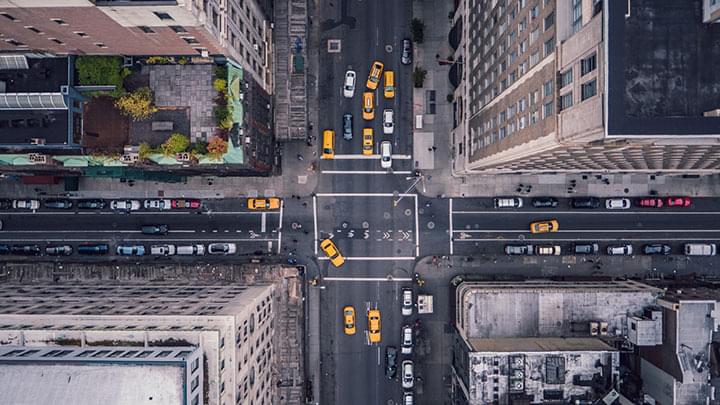 La 5th Avenue à New York City
Vos avantages de la location de voiture à l'aéroport:
Des offres à bas prix
Des heures d'ouverture plus longues
Une meilleure disponibilité des véhicules
Y a-t-il un péage aux États-Unis ?
Aux États-Unis, il n'y a généralement que quelques routes à péage. Cependant, New York est l'un des États qui en compte un nombre relativement élevé. Plus de 30 routes à péage, tunnels et ponts attendent ici. Les conurbations sont la ville de New York et le passage frontalier vers le Canada à Niagara Falls et autour de Bufallo. Vous pouvez reconnaître les routes à péage par les panneaux de signalisation avec Toll Road. Dans la plupart de cas, vous pouvez payer sans contact avec un transpondeur qui devrait se trouver dans la voiture de location. Cependant, le paiement en espèces à la machine est également possible. Préparez la monnaie et 25 cents (ce qu'on appelle des quartiers). Le calcul est basé sur le nombre d'axes et d'autres facteurs.
Où puis-je garer ma voiture de location à New York?
New York est la ville la plus densément peuplée des États-Unis. La métropole n'offre pas beaucoup de places de parking et les parkings garages sont très chers - 50 USD pour une journée ne sont pas l'exception. Les places de stationnement le long de la route sont habituellement réservées aux résidents. Manhatten en particulier a une situation de stationnement extrêmement difficile. Si vous osez encore louer une voiture, suivez les panneaux de nettoyage des rues. Cela se produit habituellement deux fois par semaine. Après le nettoyage, il faut environ une demi-heure pour que toutes les places de parking soient à nouveau occupées. Cette fenêtre est le meilleur moyen d'obtenir une place de parking avec votre voiture de location à New York. A l'extérieur des parkings, il est interdit de se garer aux bornes d'incendie (une distance d'au moins trois mètres doit être respectée) et dans les zones marquées en rouge et aux arrêts de bus.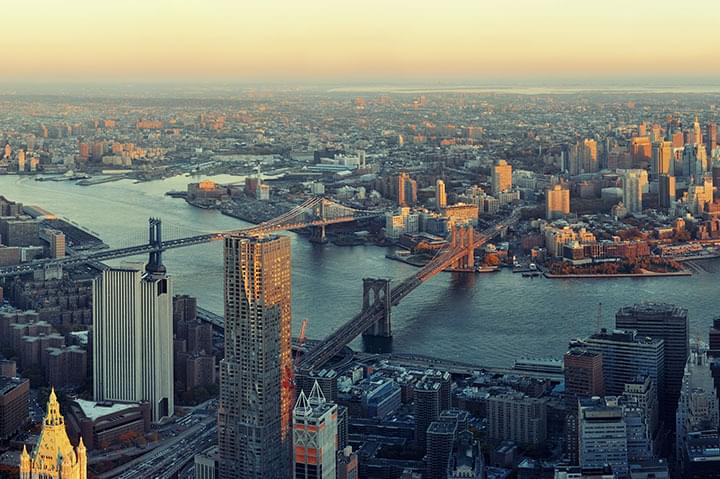 New York City et Hudson River
Quelles sont les limitations de vitesse aux États-Unis?
Plus d'informations sur la conduite aux États-Unis:
La limite d'alcoolémie est de 0,8 dans l'État de New York, mais dans certains États, elle est de 0,0 - vous devriez donc vous renseigner lorsque vous conduisez votre voiture de location dans les États voisins. Les violations sont punies même à la limite inférieure avec 10 jours de prison et plusieurs centaines de dollars US. En outre, les boissons alcoolisées ouvertes ne peuvent pas être transportées dans le compartiment du conducteur, mais uniquement dans le coffre. Dans la plupart de cas, le permis de conduire européen est suffisant aux Etats-Unis, mais dans certains cas, un permis de conduire international est également requis. Il est donc conseillé d'en faire la demande avant le départ. Cela prend habituellement une semaine. Un test supplémentaire n'est pas nécessaire. En cas de panne de voiture ou d'accident avec votre voiture de location aux Etats-Unis, vous devez toujours contacter d'abord la société de location et discuter des prochaines étapes.
Combien coûtent les excès de vitesse aux États-Unis?
De quelle assurance ai-je besoin pour ma voiture de location à New York?
Avec une voiture de location, peu importe dans quel pays vous louez votre véhicule. Pour votre propre protection, vous devez toujours choisir l'assurance "tous risques sans franchise". En outre, vous devez prêter attention à une somme d'assurance responsabilité civile élevée. La responsabilité devrait couvrir au moins une somme d'un million d'euros, le mieux serait même une somme de 7,5 millions d'euros.
Dois-je payer un dépôt plus élevé à New York?
Un dépôt est exigé pour toutes les locations de voiture, le montant du dépôt varie d'une location de voiture à l'autre. Cependant, elle ne dépend pas principalement de la monnaie, mais du type de véhicule. La location d'un cabriolet nécessite une caution plus élevée que la location d'une petite Fiat 500. Si la voiture de location est retournée sans dommage, le montant débité précédemment sera crédité sur la carte de crédit ou vous pouvez choisir de vous faire rembourser votre dépôt en espèces.
Comment inclure un conducteur supplémentaire pour la voiture de location:
Si vous ne voulez pas passer tout le temps à New York et aux États-Unis seul au volant, vous pouvez ajouter un conducteur supplémentaire pour la voiture de location. Habituellement, un petit supplément est facturé, un prix qui est souvent facturé par jour de location. Toutefois, il ya aussi des offres qui comprennent un conducteur supplémentaire gratuitement, une comparaison en ligne est également utile ici à l'avance.
Faire le plein: tout sur le carburant!
Trouver une station-service à New York n'est pas toujours facile. Ce nombre a diminué au cours des dernières années. En général, les stations-service aux États-Unis sont ouvertes 24 heures sur 24. Il est conseillé de demander de quel carburant vous avez besoin pour faire le plein lorsque vous venez chercher votre voiture de location. En Amérique, on ne calcule pas en litres, on calcule en gallons. Un gallon équivaut à environ 3,8 litres.
Quels numéros de téléphone devriez-vous connaître en cas d'urgence lorsque vous conduisez aux États-Unis?
Quand un voyage à New York vaut-il la peine?
Le 'Big Apple' vaut toujours la peine d'être visité. Que ce soit en été, lorsque la vie dans la rue et que vous pouvez profiter de la ville en T-shirt et short, ou en hiver, lorsque vous pouvez vous promener dans Central Park vêtu de neige blanche. Grâce à votre voiture de location, vous pouvez non seulement explorer la métropole pulsée dans toute son étendue, mais aussi découvrir ses environs!
Découvrez New York et ses environs en voiture de location
New York a un point culminant après l'autre à offrir. Des musées de renommée mondiale comme le Musée d'art moderne ou le Metropolitan et des icônes comme la Statue de la Liberté et l'Empire State Building, que tous les enfants connaissent grâce aux livres et à la télévision, font la queue ici. Promenez-vous dans Central Park et observez le coucher du soleil sur la ligne d'horizon la plus célèbre du monde. Visitez ces lieux en direct et faites l'expérience de cette grande ville!
Statue de la Liberté devant de la ligne d'horizon de New York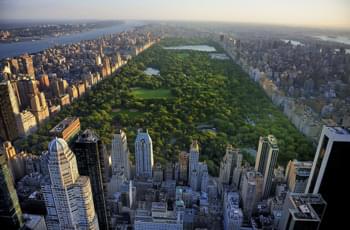 Central Park
Des attractions touristiques à New York
Central Park – Probablement le parc le plus célèbre du monde
Ground Zero – L'emplacement des tours jumelles jusqu'au 11 septembre 2001.
Musée d'histoire de la Nature
Le Musée d'Art Moderne (MoMA)
Le Metropolitan Museum
The High Line - Une liaison de train de marchandises désaffectée qui a été convertie en parc
Le pont de Brooklyn
La Statue de la Liberté
Broadway - Allez voir une comédie musicale ou un concert et profitez de la vie nocturne de New York.
Gare Grand Central
Le sommet du rocher
Top of the Rock
The Empire State Building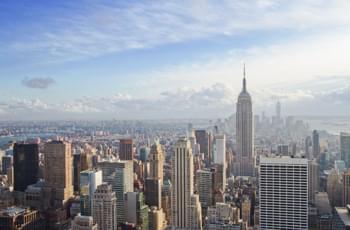 La ligne de l'horizon de la ville de New York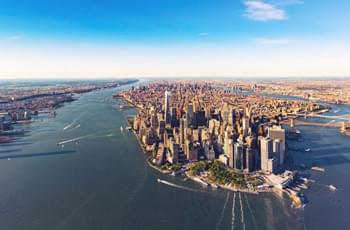 Manhattan
Des excursions de location de voiture dans les environs de New York
Louez une voiture de location à New York et explorez les environs plus proches et plus lointains de New York! Parce qu'avec une voiture de location, vous avez aussi la possibilité de connaître les merveilleux environs de New York. Les excursions comme Boston, Philadelphie et Washington D.C. devraient être en tête de liste. Niagara Falls est aussi facile à visiter avec votre voiture de location de New York. Nous avons répertorié des destinations d'excursion particulièrement belles et intéressantes que vous pouvez atteindre grâce aux voitures de location dans le tableau suivant avec des informations sur la distance:
Profitez de la métropole à couper le souffle en toute indépendance et explorez d'autres lieux mondialement connus.
Vocabulaire important pour le voyage aux Etats-Unis